Welcome To The Matchup Nightmare
August 11th, 2014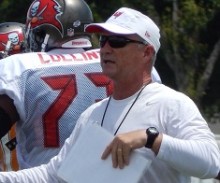 So how would you defend the Buccaneers?
Before you make an offensive line joke, consider that the line won't be that dreadful on every play, and hopefully a lot better when the Bucs rollout their real offense.
Talking Bucs on NBC Sports Network. Hines Ward explained the Bucs present a matchup problem across the board in a league filled with small cornerbacks.
Enjoy the video below that includes training camp footage.