Training Camp Practice At 2 P.M.
August 14th, 2014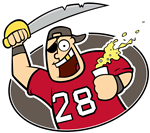 Yes, it's back to work this afternoon on the steamy practice fields of One Buc Palace.
Of course, Joe will be out there sweating for your reading enjoyment. Follow Joe on Twitter (@JoeBucsFan) and even on Instagram (TheJoeBucsFan).
Joe's practice reports and quotes from players and coaches are on the way. Stick with Joe into the evening, as always.