Wednesday Training Camp Notes & Observations
August 6th, 2014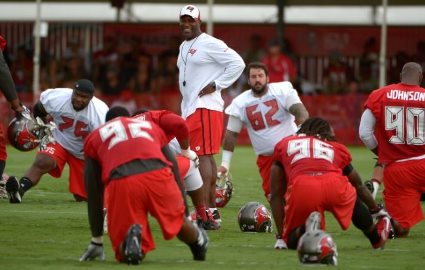 The sweat was pouring off Joe and your beloved Tampa Bay Buccaneers at today's afternoon practice, the last one before Friday night's preseason opener in Jacksonville.
Of course, Joe's got your highlights and lowlights:
*Bucs wearing shorts and helmets and shoulder pads. No big hitting today.
*Josh McCown throws way to high to Skye Dawson on left sideline. Follows up with perfectly thrown slant to Louis Murphy, precision execution.
*DROP! Luke Stocker from Mike Glennon. Short throw.
*Robert Herron flashes his athleticism going up for a ball on the run over the middle from Glennon. Nice catch in front of the safety. 20 yards
*Shelton Quarles, now director of football operations, patrolling the sidelines with an overstuffed notebook.
*Lots of work on a variety of running plays today.
*Another floppy hat day for Alterraun Verner (hamstrings) and Mike Jenkins. No way they play Friday.
*Da'Quan Bowers is back on the practice field, as is Tommy Streeter.
*Ugly fumble by Mike James on what looked like a clean handoff from Glennon.
*High McCown pass to Vincent Jackson is tipped by V-Jax and "The Hawk," Dashon Goldson swoops in for a on-hand interception.
*Nice throw and catch, McCown to Eric Page 20 yards across McCown's body.
*Russell Shepard with his second nice grab of the day. But his next chance is a drop, tossed by Glennon.
*DROP! Tim Wright.
*Glennon zips a tight spiral to Austin Seferian-Jenkins over the middle in traffic. Nice catch in stride.
*Another big-man grab over the middle by Seferian-Jenkins. Can't defend this guy.
*Two catches in a row for Mike Evans from Josh McCown in 11-on-11 work. Sharper route running for Evans today.
*Ugly mis-read by cornerback Kip Edwards, just stopped in coverage on a bomb to Eric Page, who caught the Mike Kafka pass in stride.
*McCown finds Owusu in the soft spot of the Bucs' Tampa-2 — 20 yards.
*Remember, this is glorified flag football, underwear football, no real pass rush.
*McCown with a quick release to Tim Wright along right sideline.
*McCown in the shotgun, not seen too much in camp.
*Herron catches another pass! Better hands today. A floater from Mike Glennon over coverage along right sideline.
*Solomon Patton skies over two defenders in double coverage to catch a rope along left sideline from Kafka.
*Seferian-Jenkins, "aka ASJ," with another big-time catch downfield in traffic. Dude is a monster!
Stick with Joe through the evening for so much more from today's practice.