"The Prototype" Delivers
August 9th, 2014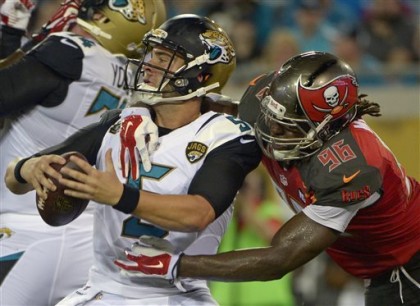 There were many bright spots for your beloved Bucs in Jacksonville last night. Don't let the skeptics ruin your Saturday.
One came from a guy Lovie Smith says is his "prototype" defensive end. And that performance threw an interesting wrinkle into the D-line competition.
Second-year man Steven Means, a 2013 fifth-round pick, registered a sack and two tackles for a loss. The way the national media is gushing wildly over the night of rookie quarterback Blake Bortles, one might think Means' sack was something extra special. It was no BS sack. Means beat his man and closed fast for a thorough takedown of Bortles (see photo).
It was May when Lovie said the following about Means: "If you just look at size, speed, long arms, you notice [Means] on the hoof a little bit," Lovie said in May. "He's that prototype guy that we're playing with, with that speed. He's not the biggest guy around. We don't care about really, so much size, but want to have a lot of fast guys that can come off the edge and rush the passer."
What's interesting is that Lovie says Buccaneers will dress seven defensive linemen on game days.
But after last night, there are eight viable bodies: Adrian Clayborn, Will Gholston, Michael Johnson, Steven Means, Gerald McCoy, Da'Quan Bowers, Akeem Spence, Clinton McDonald.
The ascent of Means makes things interesting and competitive.
Will Bowers continue to show he can back up McCoy, like he did pretty well last night? Can Gholston perform as an inside and outside rusher?
Keep in mind Means has been a regular on first-team special teams. Competition is always positive, and Joe's very glad it got kicked up a notch last night on the defensive line.