"Steamrolled" Defense Could Be A Tonic
August 16th, 2014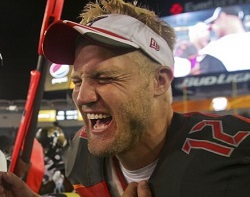 Bucs fans read deep into their team's woes and highs out of the preseason opener in Jacksonville. And observers of the Dolphins, the Bucs opponent tonight at 7:30 p.m., did the same thing.
Last week, the revamped Falcons offensive line and Matty Ice absolutely abused Miami.
It's a sting that hasn't been forgotten in South Florida and one that has Dolphins brass edgy, much like Joe assumes Bucs honchos are about their offensive line.
Here's how the Dolphins sad defense was described in the Miami Herald.
The starting defense looked lost last week. The Dolphins gave back that early touchdown on Atlanta's first drive, getting steamrolled in 15 plays. Along with surrendering three third-down conversations and committing a couple of ill-timed penalties, Miami missed at least three tackles on the possession.

It's not an anomaly. Rather, there's more than enough evidence to classify the Dolphins as a bad tackling team. To wit, Miami was statistically one of the five-worst tackling teams in the conference in 2013. The Dolphins missed 116 last year — most in the AFC East.
You can read more by clicking the link above. The Dolphins stressed tackling basics this past week in practice, and there's doom and gloom in Miami on defense, starting with bust talk surrounding defensive end Dion Jordon and a linebacker collection reminiscent of the stink the Bucs trotted out during the Raheem Morris regime.
Yes, Joe hopes the Bucs' first-team offense can show signs of life against the Dolphins defense. They'll be seeing far nastier front-7s next week in Buffalo, and in Weeks 1 and 2 against Carolina and St. Louis.