Receivers Shine; Rough Day For Mike Glennon
August 13th, 2014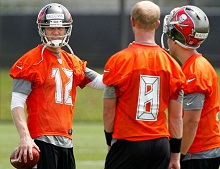 Kudos to Bucs backup defenders, cornerback Deveron Carr and linebacker Dane Fletcher, for picking off former starting QB Mike Glennon in practice yesterday.
Hey, interceptions happen, but these were on consecutive plays in 7-on-7 work.
That's not a good look. Jenna Laine, of SportsTalkFlorida.com, made note of this and more in her video highlight reel of yesterday's practice. That's the beauty of training camp, one man's failure usually is another man's success. So everything sort of balances out.
Enjoy the video below. It's got plenty of highlights.