"Out Of Control And A Little Ludicrous"
August 12th, 2014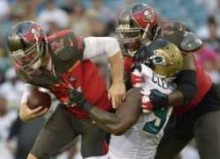 So what if Josh McCown's ball security was poor Friday and he tossed a senseless pick-6, that's no reason to throw the guy off the St. Petersburg Pier with a football helmet tied to his shoe.
Even a Mike Glennon Mob boss likely would agree.
But alas, some Bucs fans have seen enough.
Jenna Laine, a Bucs reporter for FOX Sports 1 and Sports Talk Florida, asked starting center Evan Dietrich-Smith yesterday what he would say to fans who are doubting McCown so soon. Dietrich-Smith called any such talk "out of control and a little ludicrous" and explained that McCown is the respected commander in chief of the Bucs offense. (You can enjoy his response via the SportsTalkFlorida.com video below.)