Mike Evans: Touchdown Maker
August 22nd, 2014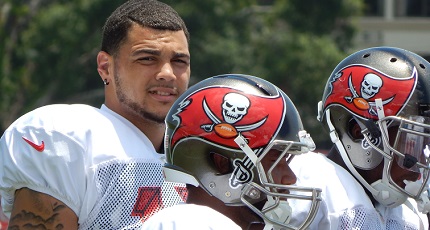 Former NFL scout and NFL Network analyst Daniel Jeremiah has crafted his list of NFL offensive rookie of the year candidates.
It's a good list for Bucs fans because Mike Evans made the cut, but it's also bad for two reasons.
Two of the other top-5 named are Saints wide receiver Brandin Cooks, who looks lethal in their high-octane offense, and Carolina's new giant target, Kelvin Benjamin. Damn that brutal NFC South.
Jeremiah picks Cooks as his No. 1 rookie candidate. Benjamin checked in one slot behind Evans.
3) Mike Evans, WR, Tampa Bay Buccaneers
No. 7 overall pick

Evans brings rare size (6-foot-5, 231 pounds), catch radius and ball skills. I don't expect him to put up big catch or yardage numbers, but I do believe he is the favorite to lead all rookies in touchdowns. He is a physical mismatch in the red zone, and Vincent Jackson's presence will assure Evans sees single coverage on a consistent basis.
Those big touchdown numbers Jeremiah is predicting sure sound great.
Once upon a time, mattress-in-the-yard, blade-in-the-thigh Mike Williams led all rookie recievers in the NFL in yardage (964), receptions (65), and touchdowns (11) in 2010.
If Evans can deliver what Williams did, then Bucs fans will be dancing on Dale Mabry.