Lovie: Michael Johnson Will Be Fine
August 23rd, 2014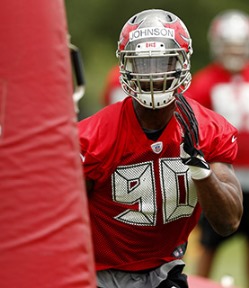 Training camp wasn't even over yet when Joe was getting messages from loads of fans, "Why aren't you writing about Michael Johnson?" Of course, there were other players Joe was asked about, but none more so than Johnson.
(As most readers know, Joe is about topics and happenings. Joe won't write about a player just because he is on the roster. A guy has to do something — bad or good — in order for Joe to care.)
Joe initially thought the reason Johnson was pretty much invisible in camp was because the defense had strict orders not to drill people. Practice is for improving, not trying to end careers. That's partially why quarterbacks are not allowed to be touched.
Soon, when the preseason games began, Johnson's play very much mirrored his practices; He was out on the field but that was about it.
Joe contends one reason Johnson recovered a fumble versus Miami, a ball jarred loose by Gerald McCoy, is he was in perfect position to recover the ball — three or four yards away from Dolphins quarterback Ryan Tannehill.
Partly because the Bucs, outside of GMC, have stunk old tuna fish in rushing the passer, and because Lovie Smith has put such an emphasis on rushing the quarterback, and the Bucs rushed to throw bags of cash in the lap of Johnson to produce sacks, folks have a high standard established for Johnson, fair or unfair.
Earlier this week, Lovie cautioned fans that he is convinced the Johnson they expect will show up in the regular season.
"I've seen good play from Michael," Lovie said. "But the dominating play that I feel like we're going to get? No we haven't seen that. But we haven't seen that from any guys on our football team. Gerald McCoy has been dominating. But I would say, around the league, a lot of the players that will end up playing great ball during the season haven't played this great ball during the preseason. So I don't look into too much from the preseason on how guys play. One thing, of course, is stay healthy and get the defense down and we'll turn them loose from there. Very pleased. No disappointment in Michael Johnson."
Joe sure hopes that is the case. However, Joe is suspicious of any NFL player who allegedly can just flip a switch. It is somewhat dangerous to believe in that. Easy to say, much more difficult to do.
Lovie always talks about how the Bucs need sacks, and that sacks and quarterback pressure are keys to his defense. So pardon Joe and other fans if we wonder if the Bucs truly got what they paid for in Johnson.
Yes, of course, time will tell.