Licht Dazzles With Mankins Trade
August 27th, 2014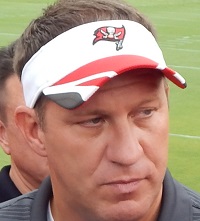 The celebratory hangover has worn off and Joe remains fired up by the Bucs' acquisition of superstar guard Logan Mankins.
And Joe's really liking general manager Jason Licht's approach: the man is patiently impatient.
Licht burst onto the scene this winter telling fans he and Lovie Smith didn't think it would be fair to ask fans to show any patience. Win now was the message — because losing had gone on far too long.
Clearly, Licht has walked the walk. But after pouncing on a league-high number of free agents, Licht displayed Gandhi-like patience.
The GM let the Bucs' wacky guard situation play out, albeit painfully for fans and Josh McCown, all while slowly working over his former boss Bill Belicheat to cough up Mankins, who is still in his prime and has a very team-friendly contract.
Joe's very impressed.
There's a still a big question mark at right guard, but keep a close eye on newcomer Rishaw Johnson. Licht's trade for him with Kansas City last week didn't just fall out of thin air. Joe will have more on Johnson later. For now, Joe's going to grill some red meat (early lunch) and think happy Bucs thoughts.