Lansanah Seems Like He Made It
August 28th, 2014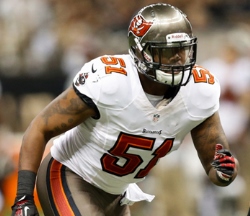 It's going to be awfully hard to keep linebacker Danny Lansanah off the final 53-man roster. The bell tolls at 4 p.m. Saturday, but that may not stop the Bucs from releasing guys as early as Friday.
Whenever Lansanah is on the field, he doesn't just make plays, he makes big plays, whether it is a crushing tackle or forcing takeaways, a fetish of Bucs coach Lovie Smith.
A 29-year-old Dominik-Schiano pickup with just two career regular season tackles, Lansanah sure made a lasting impression tonight when he had three tackles for a loss and was able to tip a pass that became an interception.
Hard to argue with what Lansanah has done, on special teams and filling in as starter for outside linebacker Jonathan Casillas when he was left home while the team traveled to Buffalo last week.
Lansanah, despite his strong training camp and solid preseason, will not rest very easily the next couple of nights.
"I tried to do what [coaches] asked me to do each and every day and play hard," Lansanah said. "I am hoping. I just have to wait and see. There are a great group of guys in the linebackers room. Hope I am there."
The fact that Lansanah plays so many positions, and the level to which he has played, Joe's doesn't know how he will not make the squad.