Jonathan Casillas Gets Punished
August 23rd, 2014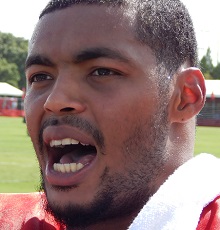 Starting strong side linebacker Jonathan Casillas was left home today, remaining in Tampa while his teammates were pounding the Bills in Buffalo.
Lovie Smith made it clear this was a punishment.
Speaking to Joe and other media after the game, Lovie said Casillas "didn't meet our standards for our football players, so there's punishment that goes with that."
Lovie also implied Casillas' crime wasn't a roster death sentence. "With Jonathan being back with our football team tomorrow, that kind of tells you how we feel about it," Lovie said.
Joe talked to another Bucs source who said the matter was strictly an internal team issue.
Joe's not sure where Casillas stands. The Bucs defense sure was humming with big-hitter Danny Lansanah filling in as a starter.