Jeff Tedford Remains Out For Health Reasons
August 26th, 2014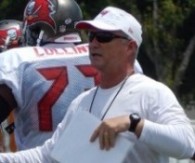 Jeff Tedford's offense isn't the only mystery surrounding the offensive coordinator.
Tedford remains out of action for health reasons and Lovie Smith wasn't talking about a speedy return today.
"The procedure went well," Lovie said. "He's fine, alert, up."

"Our staff will pull up the slack and we'll go from there."
That sure didn't sound good.
Joe hopes for the best for Tedford, whose ailment hasn't been disclosed. Tedford was coaching against the Bills on Saturday. Lovie didn't offer a name when asked today who would run the offense in Tedford's absence.