"I'm Never Happy"
August 17th, 2014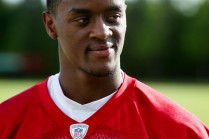 Johnthan Banks is really growing on Joe. The second-year cornerback has a real edge to him.
He plays angry. He talks angry. Heck, Joe can still remember glare on Banks' face when Joe asked Banks about being named a backup cornerback on Lovie Smith's initial preseason depth chart.
Banks played his second consecutive good preseason game last night against Miami and, in typical Banks fashion, it didn't suit him.
"I'm never happy," Banks said in the locker room.
Last year's second-round pick went on to talk about how he feels he's made a huge leap in development from his rookie year to this season. Banks credits maturity and how in sync he his with Lovie Smith.
"The first thing I talked to coach about, when I first met him, his big thing was tackling — tackling, tackling, tackling," Banks said. "And tackling is one of those 'want-to' things. You either want to do it or you don't want to do it. There ain't I can't,' Banks explained.

"I just put it in my mind, 'I don't really care about covering nobody right now. All I'm worried about is tackling.' My coach in college always told me, 'If you take care of tackling, everything else will take care of itself.'"
Banks says he's a football player and that's why he's a great fit in Lovie's defense, despite speculation that he's not the best fit for the system.
Joe would be surprised if Banks isn't starting come opening day. It's hard to image newcomer veteran Mike Jenkins walking on the field after a couple of weeks of wearing a floppy hat and unseating Banks.
Now if the Bucs can get Pro Bowl Alterraun Verner on the field, and legitimately healthy, things could get quite nasty for opposing offenses.