"I Never Saw Us As Losers"
August 2nd, 2014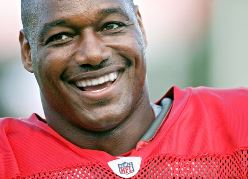 It is part of football lore, how in the first round of the 1995 draft, the Bucs selected Warren Sapp and Derrick Brooks and the duo helped reverse the fortunes of the sad sack Bucs into a Super Bowl champion.
Two Florida guys, born and bred, would make football history. Sapp was disgusted the Bucs selected him. Brooks was happy. As different as two personalities can be — the two were friends since high school — Brooks and Sapp not only made history on the field, both are Hall of Famers; Brooks is inducted this evening.
In this TBO.com video, Brooks sits down with Olivia Stacey to talk about how he helped the Bucs become winners.