"He's Ready"
August 12th, 2014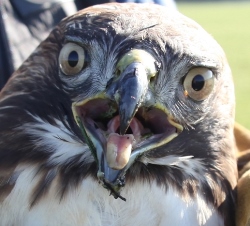 Twice this evening, and during previous news conferences, Lovie Smith has emphasized that safety Dashon "Hawk" Goldson is a smart football player.
He's also called Goldson the type of guy who's an extra coach on the staff.
But finally, Lovie emphasized today what Bucs fans really want to hear about Hawk: "He's ready," Lovie said about his two-time, Pro Bowl safety.
The head coach confirmed Goldson will play against Miami. It's time for him to bond with his teammates under real game conditions and assume the leadership role Lovie seems to be counting on him to secure.
The Bucs planned to ease Goldson back in after he missed the offseason recovering from ankle surgery. Goldson has been steady in training camp and wowed with a one-hand diving interception recently. He got the night off Friday in Jacksonville.
Joe's pumped up to see Hawk return. Damn, if just one Tampa Bay starting safety can play to his potential this season, the Bucs should be in fantastic shape defensively.