Edwards And Omameh Join First Team Today
August 12th, 2014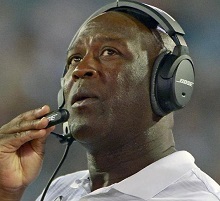 This week's shift on the Buccaneers' work-in-progress offensive line — Jamon Meredith to the bench, Oneil Cousins from right guard to left, and Jace Daniels into the starting RG role — is hardly anything that resembles a firm change.
Speaking moments ago before today's practice to the dean of Tampa Bay sports radio, Steve Duemig of WDAE-AM 620, Lovie Smith said rookie Kadeem Edwards and Patrick Omameh will work at guard with the first team this afternoon at training camp.
That's nothing too new for Edwards and Omameh, but they weren't in those roles yesterday.
Yes, the Bucs are deep in study mode when it comes to their guard candidates.
Lovie praised Daniels' "consistent work throughout, from OTAs on."
"If you continue to do good things you get a chance to do more," Lovie said.