Dominik: Fan Opinion Shaped Decisions
August 2nd, 2014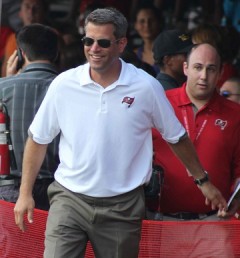 The man who cut Derrick Brooks, re-signed Jerramy Stevens, kept Bucs payroll painfully low at the start of his tenure, and dumped fan favorite Cadillac Williams against the desire of his head coach, says the opinions of Bucs fans and media played a role in shaping team decisions.
Joe had to listen to former rockstar general manager Mark Dominik's take twice to be sure.
Dominik joined the local studios of WHFS-FM on Thursday and was peppered with loads of Bucs and NFL questions. Here's the exchange in which Dominik explained influence of fans and media:
Jim Lighthall: You mention the fans, how much behind closed doors do the fans ever come up? You know, when you're making decisions, do you ever say, 'This is really going to piss off our fan base, or this is going to make our fan base happy? Does that ever come up in those discussions?

Mark Dominik: Well you certainly are aware of it. From a media perspective and fanbase, you have to be aware of it. You think about that when you do deals, or who you're drafting, or the players you're going to sign. You know, the likability part is a big part of it. And you want to make sure, you want people to want to want to like your football team. That comes from social media and that comes from our fans. That does actually play a bigger role than I think people want to admit inside NFL offices. But at the same point, we realize that social media is growing stronger and stronger every. And with that, you have to be on top of your football team and decisions you make.
Joe hates to get cynical, but damn, Joe's not buying that Bucs fans were a significant factor in anything the football front office did in recent years. Yes, Joe realizes Team Glazer told fans otherwise.
"Our fans are our stockholders. They're what we play for — the people in our stadium and the ones that watch on TV. That's what it's all about: winning and how they feel about the team. If they don't feel good about the team, then there's something wrong. . . I think you all know the sense that's out there. It was time for a change." Team Glazer, following the firing of Jon Gruden in January 2009.
NFL teams, not just the Bucs, nurture their own interests far more than the fans'.
A healthy organization finds a way to balance that, but it's a business. And money comes first. It always will.