Defensive Linemen Call The Rush On Third Down
August 7th, 2014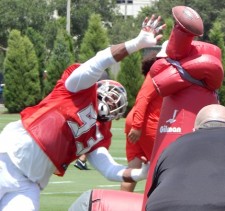 Imagine detail-obsessed, micromanager Greg Schiano giving his defensive line the freedom to call its own pass rush style on third down. They could call games, straight rushes, whatever.
Ha! That wasn't about to happen. Schiano was the same guy who was restricting hot meals for players.
Remember the story of Gerald McCoy marching into his coach's office last year and begging the resident defensive masterminds to stop playing Dancing With The Stars on pass rushing downs?
Well, life has changed in a massive way at One Buc Palace, and it's not just the new head coach not caring much about various temperatures, water-bottle carrying, and other obscure nonsense.
Akeem Spence made it clear to Olivia Stacey of TBO.com.
"On third down, you know, the D-line is control pretty much of the whole defense. We get to call our own [pass rush] games," Spence said. "You know, we get to rush the passer the way we want to and not be restricted to our rushing lanes."
In the TBO.com video below, Spence also talks about how much more fun defense is now that Lovie Smith and Leslie Frazier are in charge.
Joe's fired up to see some production. For all of Schiano's shenanigans, his 2013 defense was still average and forced turnovers at a rate near the very top of the NFL. Lovie's got to get his defense taking a major stride, given that it's nearly same, plus a few upgrades.
(Enjoy Olivia Stacey's report below)