Da'Quan Bowers Rewarded
August 7th, 2014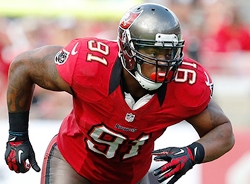 Lovie Smith politely chided the Tampa Bay pen and mic club early this week for being overly critical of defensive lineman Da'Quan Bowers.
The former Tampa Bay second-round pick, now entering his fourth season, and third coaching staff and second administration, has rarely if ever lived up to his ceiling.
The past two seasons have been rough for Bowers. Not long after then-Bucs rock star general manager Mark Dominik let sack leader Michael Bennett walk away for no good reason, the starting left defensive job was gifted to Bowers. He rewarded the team by getting into a gun hassle in New York.
Bowers, though, either came into camp out of shape or was demonized by the voice of Greg Schiano, depending who you talk to, and only started two games. This season, in a move Joe can't ever recall happening, Bowers' position coach Joe Cullen called him out for being out of shape … in June!
Well, it appears something has hit home with Bowers whether the past voice of Schiano's is no long tormenting him or someone with the Bucs impressed upon him how he is at the T-intersection of his career, or perhaps a position move to tackle has done the trick. It appears Bowers is practicing better.
In fact, Bowers received a reward, notes Rick Stroud of the Tampa Bay Times, for his training camp work
DL Da'Quan Bowers practiced [Wednesday], a day after the Bucs held him out. He said he was given a day off because he had been performing well.
Lovie doesn't seem to be the kind of guy to just play games with a player. And giving Bowers — or any player — a reward when he didn't deserve it would be tantamount to head games. That just doesn't seem to be Lovie's style.
If, in fact, Bowers can be a productive tackle, then that is nothing but good new for the Bucs. Look, Joe hated to write bad things about the guy because Bowers is really a nice guy. His three years in the NFL, however, have bordered on shameful he has been such a non-factor.
If Lovie found the right button to turn Bowers' career around, that's a win-win and no one wins more in that scenario than Bowers himself.