Bucs Retain 29 Schiano Men; Only 24 New Bodies
August 30th, 2014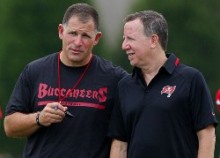 In what would have been a surprising thought in January, Tampa Bay's initial 53-man roster only includes 24 bodies new to the organization.
Andy Reid, by comparison, had 30 fresh faces to start last season in Kansas City, the year he was hired to overhaul a two-win club.
It's almost amazing that defense-first Lovie Smith has 17 returning Schiano men on his defense. And some fans think former rockstar general manager Mark Dominik left a bare cupboard. Hah!
Of course, more roster changes will come, as the current bench players represent a very fluid situation.
But for now, most Buccaneers have ties to the former regime.