Applauding 17 First Half Rushes
August 23rd, 2014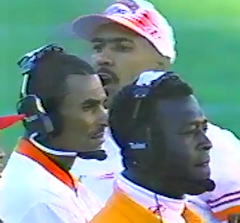 Lovie Smith wants the return of "Buc Ball," and while fans might want to see a high-flying offense targeting their giant receiving corps, Lovie is enamored with old school football.
Joe took note when Lovie explained the how proud he was of the quantity of the running game in the first half against Buffalo today.
The quality wasn't supreme. Doug Martin and Bobby Rainey combined for 15 first-half carries for a paltry 31 yards, plus there were two Josh McCown scrambles. But the head coach loved it.
"For the running game, I think we had 17 rushes in the first half, and that's what we want to do. To be a running football team you need to have attempts as much as anything," Lovie told Joe and other media after the game.
So there you have it, Bucs fans, Lovie wants to pound the rock like it's 2006.
Joe's got no problem with that, but the Bucs are going to have improve their offensive line to get where they want to go. Perhaps there are solutions still out there for 2014?