Another Major Gamble By Lovie Smith
August 19th, 2014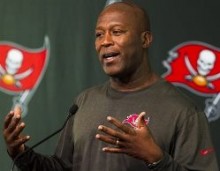 Goodbye, Eric Page. Thanks for being the 13th-ranked punt returner in the NFL last season, among players with 15 or more returns. Joe's writing your Bucs eulogy this morning.
Lovie Smith is going with a rookie at punt returner, a rookie who happens to be older than you and a guy who didn't even return punts in college.
Your replacement is Solomon Patton, undrafted out of the University of Florida. In two good fourth quarter punt returns Saturday against future luggage handlers, bouncers and UPS drivers posing as Miami Dolphins, it seems Lovie found his man.
In fact, the Bucs' new depth chart for Saturday's preseason game at Buffalo shows only one surprising change, Patton is listed as the starting punt returner and kick returner.
"He's really caught the ball well, and he's got great speed and quickness. So, we're pretty excited about giving him the opportunity, and I thought he got better and better each punt return. You know, small guy but likes to hit it up in there. Impressive opening game for him," Lovie said of Patton.
Joe's all for giving a guy a shot, but it's a gamble to trot a rookie out there as a punt returner, especially a rookie who didn't return punts in college. And the Bucs sure seem like they're going to force a lot of punts — and need to win the field position battles.
Yes, Page made his share of bonehead decisions last year (whaddya know, he was 21 when the season started) but there was a lot of good there, as evidenced by his statistics and the fact the Bucs re-signed him this offseason.
Lovie isn't afraid to engage in high-stakes gambling (see Josh McCown and the guards), but that doesn't mean it won't work.