Vincent Jackson Paints A Revealing Picture
July 12th, 2014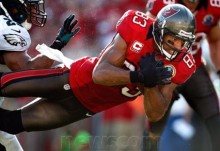 Thankfully, Vincent Jackson is way better at catching footballs than he is giving interesting quotes to media.
Jackson, when he feels like chatting, does a masterful job of always finding ways of saying his team — past and present — is great and working hard, his teammates are great, coaches are great. You get the idea.
So Joe found it quite noteworthy when Jackson took the local WHFS-FM airwaves yesterday and said the Buccaneers are way ahead of where they were at this point last offseason.
That made Joe check the audio again. Last year at this time, the Bucs were coming off having the 9th-ranked offense in the NFL, with a returning coordinators and a veteran quarterback.
But, yes, that's what Jackson said. "I feel like we're way ahead of the learning curve. You know, we had a great spring. The guys are clicking together. I feel like we're way ahead of the curve from where we were this time, you know, the last couple of years. So that's exciting."
Take your pick: This either sheds a horrendous light on the Greg Schiano regime or illustrates how Lovie Smith truly knows how to run and manage an NFL football team, or both.