Video Glimpses Of Bucs Practice
July 30th, 2014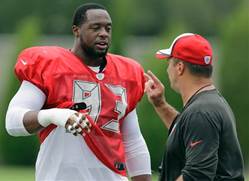 It was a cool day (literally) at Bucs training camp, Day 5 today at One Buc Palace. Towards the end of practice as the sun began to set, the humidity dropped and there was a cool breeze. It felt more like October than July.
The practice was cool too, and not because of the temperatures. In fact, it got heated with a couple of fights. But there were also some sick catches made by receivers and there was some hittin' going on. Guys were laying the wood on ballcarriers.
Even if you couldn't make it to One Buc Palace, below are some videos ,courtesy of the Bucs' Vine account. Enjoy!