Training Camp Notes & Observations — Day 4
July 28th, 2014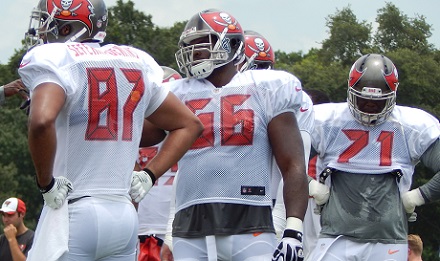 It was another day of training camp for your favorite team, and Joe's got all the sights and sounds of practice.
*Jeff Demps fumbles a kickoff. Ball security has plagued Demps since the spring.
*New guards with first team Matt Patchan and Kadeem Edwards.
*Patrick Omameh getting work at guard as well.
*In goal line drills, Doug Martin gets splashed by Lavonte David and Clinton McDonald.
*McDonald with another tackle for loss.
*Will Gholston from left defensive end swallows up a running back for a loss.
*9-on-7 drill in the red zone has turned up the intensity big time. Michael Johnson just totally stuffed Bobby Rainey and the defense went nuts, Twitters Bucs staff writer Scott Smith.
*Anthony Collins, Luke Stocker, Austin Seferian-Jenkins & Jorvorskie Lane leading a toss-sweep for Charles Sims. Now THAT is a jumbo package.
*Mike James flashes nifty balance with the third team and gest the edge in red zone run.
*Drop! Lavelle Hawkins, from Josh McCown.
*Skye Dawson loses Keith Tandy on a move for a score.
*Vincent Jackson draws cheers after catching a ball from McCown. Johnthan Banks has been holding his own vs. V-Jax in camp but this play, VJax got best of Banks on a slant for six.
*McCown now in the shotgun in the mysterious Jeff Tedford offense. Complete to Eric Page, while cornerback Mike Jenkins tries to violently strip the ball.
*Tampa-2 defense threaded by McCown to rookie Robert Herron, who made a juggling catch he probably didn't have to juggle.
*Jeff Tedford has talked in past about getting the ball to people in space. That is so evident watching first team offense.
*Mike Glennon appears in 11-on-11 and promptly completes to Louis Murphy to the opposite flank. Also finding the soft spot in the zone. Next Glennon pass is short and complete to Austin Seferian-Jenkins, who is one massive human being.
*Next play, Glennon is lucky there's no hitting the QB, as undrafted defensive end Chaz Sutton was through on a blitz. … Another would be sack on the next play.
*Austin Seferian-Jenkins shakes Lavonte David making a nice catch on a zippy pass from McCown.
*Demar Dotson shuts down Will Gholston in 1-on-1 pass rush/pass block drill. Next play. Offsides Gholston! Next play: Gholston wins.
*V-Jax in tight space 15 yards over the middle in stride from Glennon. Very much in sync there with a lot of zip on the throw. "The Cannon"
*Yes, Austin Seferian-Jenkins can split the defense deep down the middle.
*Anthony Gaitor's return marked by an interception in third-team duty.
*Mason Foster takes a tumble and is slow getting up. He's ok.
*Bad overthrow by McCown.
*Adrian Clayborn beats Dotson inside in drill work. Dotson gets a quick in-your-face coaching session.
*Bucs sure have lucked out with steady cloud cover through two-thirds od practice.
*Fake field goal! Michael Koenen with a short pass to Demar Dotson. Offense and defense wasn't really going full speed, but Dotson made the catch and had no problem styling and high-stepping in the end zone. Highlight of practice.
*Perfect pooch punt by Connor Barth, downed inside the 1 yard line by Patrick Omameh.
*Stocker gets an assignment with the first-team offense! Double tight-end set with Tim Wright on a running play.
*Roll right dumpoff pass to Bobby Rainey from McCown.
*Gerald McCoy blows past Patrick Omameh (right guard).
*Eric Page gets some first-team work.
*With the second team, Charles Sims zig-zags through traffic in the backfield to run up middle for sweet gain.
*The first hard tackle of the day, except players aren't supposed to be putting ball carriers to the ground. It was Will Gholston swallowing up Charles Sims after a three-yard gain.
*A Jeff Demps drop? Again? Argument ensues among Bucs media whether it was a drop or a bad pass by Glennon.
*Johnthan Banks slips covering Louis Murphy. Complete for 10-yard gain.
*Quick-count pitch from a jumbo package. The Rainey run left had blockers in front of him with first team. Praise — "way to go OL" — heard from coaches.
*Sharp slant connection V-Jax from McCown in stride. Mike Jenkins visibly unhappy he didn't get his hands on the ball.
*Lots of helmets cracking when the third team is on the field. Guys desperate for an NFL paycheck and to impress with their limited reps.
*Tommy Streeter getting extended attention for painful cramps. Heat woes are setting in big-time. Jamon Meredith, who looked like he just got out of a swimming pool he was sweating so much, is heard asking a teammates, "We're almost done, right?" with 15 minutes left in practice. Seferian-Jenkins also getting some hydration, cool-down relief from a trainer, but he's back on the field quickly with the first team.
*Banks and Seferian-Jenkins continue to impress regularly.
*Mike Evans might have saved his best for last, with a nice catch over the middle.
*Glennon overthrows Skye Dawson.
*Not seen at practice are any of the jump ball passes to the "Dunkaneers."
*Reserve LB Danny Lansanah picks off Glennon. Practice ends.
Stick with Joe through the afternoon and evening for all kinds of nuggets, news and interviews from Bucs camp.