The Countdown: Worst 20 Buccaneers Of The Past 10 Years — No. 8
July 18th, 2014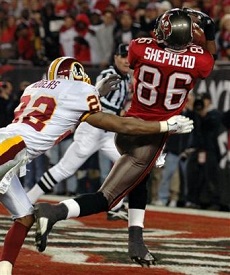 Endless Top-Whatever lists across the Internet got Joe thinking of the Tampa Bay drought since their Super Bowl glory. Not a playoff victory since! And that motivated Joe to rank the 20 worst Buccaneers of the past 10 years.
Serious deliberations went into this at JoeBucsFan.com world headquarters.
Beers bottles were thrown. Game film came out. Arguments ensued. Chants of Sabby from wild interns were quieted by Joe.
In the end, primary consideration was given to expectations combined with on-field performance. Off-field behavior was a factor, and players were not punished for injuries.
No. 8 — defensive coordinator Edell Shepherd (2003-2005)
Newer Bucs fans might not understand this selection, but if you were watching the second-to-last Bucs playoff game, you'll get it.
Joe can't handle wide receivers who can't squeeze the football. And Edell Shepherd's fourth-quarter drop in the end zone of a Chris Simms bomb, one of the prettiest passes you'll ever see that would have tied the Bucs-Redskins playoff game in January 2006, was easily one of the worst drops in team history.
Joe can still feel the heartbreak and the rage. You can re-live it via the video below.
Shepherd was undrafted and didn't come with high expectations, but he's responsible for sleepless nights for hundreds of thousands of Bucs fans. Chucky bounced Shepherd from the Bucs immediately. He caught a few balls for the Texans the next season and wasn't heard from again.
No. 9 — Jerramy Stevens
No. 10 — Jim Bates
No. 11 — Gaines Adams
No. 12 — Keydrick Vincent
No. 13 — Dre Moore
No. 14 —

 

Kevin Ogletree
No.  15  – Sean Mahan
No. 16 — Da'Quan Bowers
No. 17 — Daniel Te'o-Nesheim
No. 18 — Kyle Moore
No. 19 – Jeremy Trueblood
No. 20 – Michael Clayton
The Countdown: Worst 20 Buccaneers Of The Past 10 Years will run once or twice daily until No. 1 is revealed on Thursday, July 24.