The Countdown: Worst 20 Buccaneers Of The Past 10 Years — No. 6
July 20th, 2014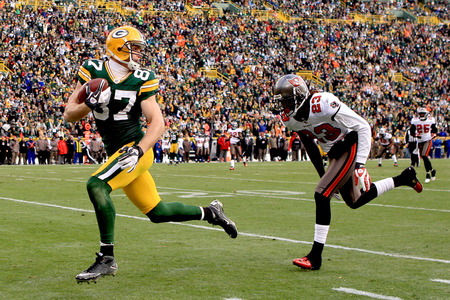 Endless Top-Whatever lists across the Internet got Joe thinking of the Tampa Bay drought since their Super Bowl glory. Not a playoff victory since! And that motivated Joe to rank the 20 worst Buccaneers of the past 10 years.
Serious deliberations went into this at JoeBucsFan.com world headquarters.
Beers bottles were thrown. Game film came out. Arguments ensued. Chants of Sabby from wild interns were quieted by Joe.
In the end, primary consideration was given to expectations combined with on-field performance. Off-field behavior was a factor, and players were not punished for injuries.
No. 6— cornerback Myron Lewis (2010 – 2013 preseason)
The 2010 NFL Draft was heralded as the greatest draft known to man. Why? Because so many college players were declaring in order to enter the league before a new rookie salary cap would take effect the following season.
The Bucs drafted long, athletic Myron Lewis with the third selection in the third round. So this was like a high second-round pick in a traditional season.
The Bucs even had a defensive backs guru as a head coach in Raheem Morris. And he gave a thumbs up on Myron, who was a full fledged graduate of Vanderbilt in the SEC. Not only was Lewis the prototype long corner, but he was a smart guy and a good citizen who graduated early from Vandy.
But Lewis couldn't play football. The guy was a supreme bust.
Joe vowed not to punish guys for being injured, and Lewis had several nagging ailments, but even when healthy on the field he was dreadful. The man was toasted repeatedly, extraordinary considering how little he was on the field.
Keep in mind Lewis couldn't crack the lineup when the 2012 Bucs sported the second-worst secondary (statistically) in NFL history. It was a bungling bunch of cornerbacks to be kind.
A piece of perspective on Lewis, it was actually noteworthy to Joe and various media types when Lewis looked good at times in 2013 training camp. That's how rare it was.
Joe learned Greg Schiano, the Bears former secondary coach, was a big factor in holding on to Lewis so long. Schiano loved those measurables and thought he might be able to revive Lewis. He didn't.
Appropriately, 26-year-old Lewis was last spotted getting cut from the Edmonton Eskimos earlier this year.
No. 7 — Byron Leftwich
No. 8 — Edell Shepherd
No. 9 — Jerramy Stevens
No. 10 — Jim Bates
No. 11 — Gaines Adams
No. 12 — Keydrick Vincent
No. 13 — Dre Moore
No. 14 —Kevin Ogletree
No. 15 – Sean Mahan
No. 16 — Da'Quan Bowers
No. 17 — Daniel Te'o-Nesheim
No. 18 — Kyle Moore
No. 19 – Jeremy Trueblood
No. 20 – Michael Clayton
The Countdown: Worst 20 Buccaneers Of The Past 10 Years will run once or twice daily until No. 1 is revealed on Thursday, July 24.