The Countdown: Worst 20 Buccaneers Of The Past 10 Years — No. 20
July 11th, 2014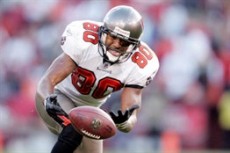 All the Top-Whatever lists across the Internet got Joe thinking of the Buccaneers' drought since their Super Bowl glory. And that got Joe motivated to rank the 20 worst Buccaneers of the past 10 years.
Immense thought went into this at JoeBucsFan.com world headquarters. There was even an all-night screaming session where a top intern was standing on a table yelling, "If Derrick Ward isn't on this list, then I quit." Joe had to get the poor kid a beer before Joe fired him for spilling it.
Primary consideration was given to expectations for a player combined with his on-field performance. Off-field behavior was a factor, and players were not punished for injuries.
No. 20 – Wide receiver Michael Clayton
The Great Lumpkin, running back Kregg Lumpkin, was in the running for this spot, as was Jordan Shipley, but blocking icon Michael Clayton lost out won out.
Clayton was a tough pick. His 2004 rookie season was spectacular, with 80 catches for 1,193 yards. But his subsequent seasons were so dreadful and so far below expectations that he couldn't be ignored.
Yes, Joe has an intrinsic problem with receivers who can't catch the football. Clayton became that guy.
Clayton owes his place on this list, in part, to former Bucs rockstar general manager Mark Dominik, who decided to gift Clayton $10 million guaranteed before the 2009 season. That treated Bucs fans to Clayton's 16-catch season in '09, which concluded his Buccaneers career.
The Countdown: Worst 20 Buccaneers Of The Past 10 Years will run once or twice daily until No. 1 is revealed on Thursday, July 24.