The Countdown: Worst 20 Buccaneers Of The Past 10 Years — No. 19
July 12th, 2014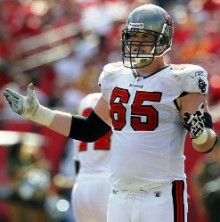 All the Top-Whatever lists across the Internet got Joe thinking of the Buccaneers' drought since their Super Bowl glory. And that got Joe motivated to rank the 20 worst Buccaneers of the past 10 years.
Immense thought went into this at JoeBucsFan.com world headquarters. There was even an all-night screaming session where a top intern was standing on a table yelling, "If Derrick Ward isn't on this list, then I quit." Joe had to get the poor kid a beer before Joe fired him for spilling it.
Primary consideration was given to expectations for a player combined with his on-field performance. Off-field behavior was a factor, and players were not punished for injuries.
No. 19 — offensive tackle Jeremy Trueblood (2006-2012)
Labeled "Team Dunderhead" by a wiseguy editor at the Sarasota Herald-Tribune, Jeremy Trueblood was a disappointment. Upon further review, what exactly did Trueblood accomplish as a second-round pick in 2006?
Joe's heard the cries for Tampa Bay's other notorious false-start master, Kenyatta Walker, to get a spot on this dubious list, but Joe never strongly considered Walker.
That guy started at right tackle for the Super Bowl champion Buccaneers. How could Joe include a guy with hardware? Plus, Walker was part of better offenses than Trueblood.
Trueblood was out injured when the Bucs' offense fired on all cylinders during the second half of the 2010 season. The renowned James Lee stepped in and was better than Trueblood. Two years later, the ninth-ranked Bucs offense was humming with 29-year-old Trueblood as a backup behind Demar Dotson.
Now out of football after playing turnstile for the Atlanta Falcons last season, ol' Dunderhead is deserving. (Hint: Two more offensive linemen are still to be named.)
The Countdown: Worst 20 Buccaneers Of The Past 10 Years will run once or twice daily until No. 1 is revealed on Thursday, July 24.