The Countdown: Worst 20 Buccaneers Of The Past 10 Years — No. 13
July 16th, 2014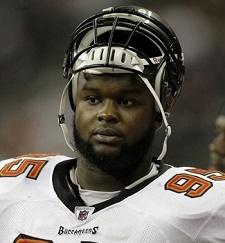 Endless Top-Whatever lists across the Internet got Joe thinking of the Buccaneers' drought since their Super Bowl glory. Not a playoff victory since! And that motivated Joe to rank the 20 worst Buccaneers of the past 10 years.
Serious deliberations went into this at JoeBucsFan.com world headquarters.
Beers bottles were thrown. Game film came out. Arguments ensued. Chants of Sabby from wild interns were quieted by Joe. There was even an all-night screaming session where a top intern stood on a table and repeatedly yelled, "Put the damn Rockstar on the list!!" Joe had to give the poor kid a Hooters Calendar just to calm him.
Primary consideration was given to expectations for a player combined with on-field performance. Off-field behavior was a factor, and players were not punished for injuries.
No. 13 — defensive tackle Dre Moore (2008-2009)
Personnel gurus Bruce Allen and Jon Gruden (NOT!) traded up with Lovie Smith and the Chicago Bears to snatch Dre Moore in the fourth round of the 2008 draft.
Moore wasn't Myron Lewis bad, but he was darn close. Simply stated, Moore really never showed a glimpse of NFL talent. He was cut after his first Bucs training camp, the entire NFL passed on him, and then the Bucs re-signed him to their practice squad. That's a rare occurrence for a mid-fourth-round pick.
In 2009, after the Bucs gutted their team for the new Raheem regime, Moore made the Tampa Bay squad but couldn't win a starting job from dreadful Ryan Sims, and Moore's little bit of reserve game action was enough to get him booted.
The Jaguars put him on their practice squad in 2010, and then Moore was out of the league.
Joe remembers nearly driving off the road in the spring of 2009, while hearing Pewter Report writer Scott Reynolds pimping the virtues of Moore as part of a discussion of how Monte Kiffin should have been more forward thinking in letting rookies take the field. Joe's sure glad Kiffin didn't soil the Buccaneers' top-10-ranked, 2008 defense by playing Moore.
No. 14 —
Kevin Ogletree
No.  15  – Sean Mahan
No. 16 — Da'Quan Bowers
No. 17 — Daniel Te'o-Nesheim
No. 18 — Kyle Moore
No. 19 – Jeremy Truebood
No. 20 – Michael Clayton
The Countdown: Worst 20 Buccaneers Of The Past 10 Years will run once or twice daily until No. 1 is revealed on Thursday, July 24.