The Countdown: Worst 20 Buccaneers Of The Past 10 Years — No. 12
July 16th, 2014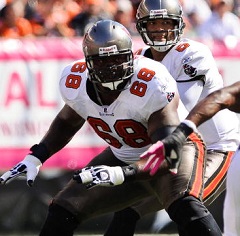 Endless Top-Whatever lists across the Internet got Joe thinking of the Tampa Bay drought since their Super Bowl glory. Not a playoff victory since! And that motivated Joe to rank the 20 worst Buccaneers of the past 10 years.
Serious deliberations went into this at JoeBucsFan.com world headquarters.
Beers bottles were thrown. Game film came out. Arguments ensued. Chants of Sabby from wild interns were quieted by Joe. There was even an all-night screaming session where a top intern stood on a table and repeatedly yelled, "Put the damn Rockstar on the list!!" Joe had to give the poor kid a Hooters Calendar just to calm him.
Primary consideration was given to expectations for a player combined with on-field performance. Off-field behavior was a factor, and players were not punished for injuries.
No. 12 — left guard Keydrick Vincent (2010)
Back in the old days, when Team Glazer and former rockstar general manager Mark Dominik talked about free agents as if most were evil demons who could deliver a team a nasty infection, the Bucs didn't do much before the NFL Draft. The draft was where it was at. Build that "lasting contender."
But in July 2010, (yes, July) a big offseason acquisition was made on offense, veteran guard Keydrick Vincent, who hard started all of the past season for the 8-8 Panthers. He was to replace left guard Jeremy Zuttah, who had replaced Arron Sears the year before.
Well, Vincent started the first five games of that 2010, promptly got cut, and never played a down of NFL football again.
The Bucs' running game exploded after Vincent's departure with rookie Ted Larsen filling in as part of the Bucs' patchwork offensive line, one that later included James Lee and Derek Hardman. (And some of you thought Larsen would make this list. Ha!)
No. 13 — Dre Moore
No. 14 —

 

Kevin Ogletree
No.  15  – Sean Mahan
No. 16 — Da'Quan Bowers
No. 17 — Daniel Te'o-Nesheim
No. 18 — Kyle Moore
No. 19 – Jeremy Trueblood
No. 20 – Michael Clayton
The Countdown: Worst 20 Buccaneers Of The Past 10 Years will run once or twice daily until No. 1 is revealed on Thursday, July 24.