The Countdown: Worst 20 Buccaneers Of The Past 10 Years — No. 10
July 17th, 2014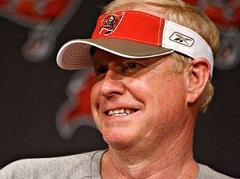 Endless Top-Whatever lists across the Internet got Joe thinking of the Tampa Bay drought since their Super Bowl glory. Not a playoff victory since! And that motivated Joe to rank the 20 worst Buccaneers of the past 10 years.
Serious deliberations went into this at JoeBucsFan.com world headquarters.
Beers bottles were thrown. Game film came out. Arguments ensued. Chants of Sabby from wild interns were quieted by Joe.
In the end, primary consideration was given to expectations combined with on-field performance. Off-field behavior was a factor, and players were not punished for injuries.
No. 10 — defensive coordinator Jim Bates (2009)
The Jim Bates Experience, as Joe called it, was a colossal disaster. With nearly 20 years of NFL experience, Bates was hired by Tampa Bay and implemented his two-gap defensive scheme for the Bucs' new Raheem regime in 2009. The problem was Bates didn't have the personnel for that, refused to adjust and nearly singlehandedly destroyed careers.
Bates ordered his defensive linemen to fatten up out of the gate in hopes of finding plug-filling bodies. Go ask Roy Miller and Kyle Moore how much all the Bates-ordered weight messed up their bodies and ate away at their confidence.
In a merciful move for Bucs fans, Bates was fired after 10 games and the Bucs scrapped most of his defense. Raheem even said that Bates was unhappy a couple of weeks before Bates was fired. At that time, Joe noted the odd choice of words that all but said Bates was miserable, which is inexcusable for a professional coach.
"… We're implementing his system. We're getting the players in place that he needs to be successful. And once we have that opportunity to do that, Jim Bates will be feeling pretty good about being here, loving life. And we're just glad we can work together."
A coach's No. 1 job is to get the most out of what he has. Bates never did.
Joe's favorite part of the Jim Bates Experience was when word leaked that Bates was defrocked but not yet fired, Bright House Sports Network anchor Rock Riley chased down Bates at a local fast food joint while the Bucs were practicing at One Buc Palace. That was entertainment.
Like many names on this dubious list, Bates never found another NFL team after leaving the Bucs.
No. 11 — Gaines Adams
No. 12 — Keydrick Vincent
No. 13 — Dre Moore
No. 14 —

 

Kevin Ogletree
No.  15  – Sean Mahan
No. 16 — Da'Quan Bowers
No. 17 — Daniel Te'o-Nesheim
No. 18 — Kyle Moore
No. 19 – Jeremy Trueblood
No. 20 – Michael Clayton
The Countdown: Worst 20 Buccaneers Of The Past 10 Years will run once or twice daily until No. 1 is revealed on Thursday, July 24.