Teaching, "Outside Leverage" & Alabama Jokes
July 28th, 2014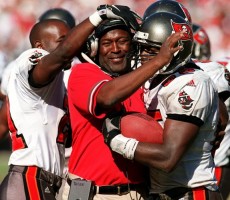 Damn, if this NFL Network video won't get you jacked up for Buccaneers football, then you might want to check your pulse.
The good folks at the Man Channel were at practice yesterday (Joe can still hear Warren Sapp in his ear; them man never shuts up.) and they "mic'd up" Lovie Smith.
The result was that video linked above. Enjoy it!
One thing to note is the serious teaching of Alterraun Verner. Joe has seen this since Day 1 of April minicamp. This regime is determined to have Verner playing instinctively out of the gate during his first season in the Tampa-2 defense.
Also, Lovie takes a playful shot at Alabama football and his fascination with Jeff Demps shines through, among other goodies.