Nightmare On Dale Mabry Highway
July 24th, 2014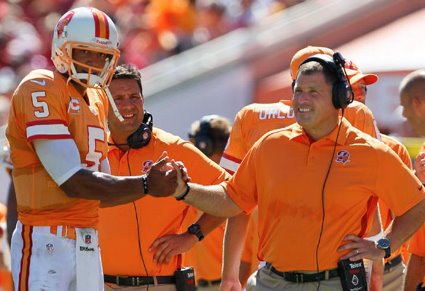 Bucs players are filing into One Buc Palace this very moment. Of course Joe will have updates as you can expect.
As we find out today if Carl Nicks still has two feet (and presumably, 10 toes), the memories of the Nightmare on Dale Mabry Highway, otherwise known as the rancid 2013 season, are finally fading away.
A new era is about to dawn. Where this leads us, who knows?
As if waking from his own version of an NFL summer siesta, ornery Alan Dell of the Bradenton Herald chronicled painful if not laughable moments to come out of 2013. There were many.
But a few jogged Joe's memory of why Team Glazer had a housecleaning. One that really struck a chord was a total d!ck move by former defensive coordinator Bill Sheridan, the orchestrator of the famed Schiano Stunts.
When both former Bucs players and fans alike were so enraged by the pitiful season they damned near started a picket line outside One Buc Palace in protest, Sheridan, during his weekly press conference, said all fans who wanted to learn why he crafted defenses the way he did were more than welcome to show up at daybreak at One Buc Palace. Sheridan said that when he arrived to the office, he would be happy to break down his past gameplans with them.
"We have all the Cokes you would want," Sheridan cooed, smirk firmly planted on his face.
Of course, a handful of fans took him up at his word. But instead of pulling off a public relations coup and sitting down with the fans, even for a brief moment to empathize, Sheridan all but flashed the finger at them while farting in their faces. He cockily mocked the loyal fans who got out of bed early, hoping to talk Bucs football with Sheridan, people that helped pay his salary.
Sheridan didn't even crack his window open to wish the fans a good morning as he drove right by them with disdain, as if each fan was armed with a squeegee. When reporters later asked if he talked to the fans, Sheridan haughtily chortled, "No!"
What a jerk!
Joe is really sure that's how Team Glazer wanted its employees to treat what few loyal fans they had during a disgusting season when empty red seats at the Stadium on Dale Mabry Highway seemed to outnumber red-clad Bucs fans.
It was a low-rent move by a low-rent coach.
Joe's willing to lay cash not only would Lovie Smith never pull a stunt like that, neither would general manager Jason Licht.
It's one thing to be mired in a rotten season. It's quite another for a high profile assistant to virtually throw warm beer in fans' faces.
In not quite 24 hours, that awful page on the calendar is turned.