"Nasty" Is Critical
July 31st, 2014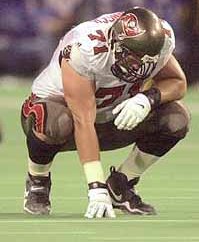 Money and a Pro Bowl in a player's past can't buy "nasty."
That was the message from a Glory Days Buccaneer who likes what's brewing on Tampa Bay's offensive line.
Years of underachievement from the Tampa Bay offensive line has made many Bucs fans chronically ill.
 Former Bucs tackle Jerry Wunsch (1997-2001) joined WDAE-AM 620 this morning and explained that the injection of Lovie Smith and a fighting spirit in training camp has him very optimistic.
"What I was actually a little bit excited about is that they're temperamental. And you can tell things are going on in camp, the competitiveness is raising up, and that's the first key to success," Wunsch said of the Bucs' offensive line in progress. "You gotta get a nasty offensive line up front. That's usually where it starts. And you're starting to see signs of that whereas before, I don't know it was exactly nasty. They had guys that were guys who were Pro Bowlers, but [now] as long as they fight together, they're going to be in great shape."
Wunsch seems to be all in favor of the fireworks at yesterday's practice. Before your fight for each other, you gotta fight against each other, Wunsch explained.
He feels it's a sign Lovie is building the mindset of a winner. "You gotta get that sense that it's more than a paycheck," Wunsch said.
You can listen to Wunsch's entire interview below, via 620wdae.com