Lovie's Leaner Buccaneers
July 25th, 2014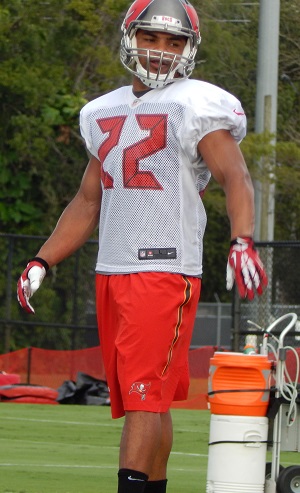 Lovie Smith spoke this evening about how he wanted his whole team to focus on losing fat but not strength this offseason.
Lovie said he emphasized speed and strength are the top priorities, and weight and bulk are overrated.
Joe snapped this photo of Doug Martin at practice today. Interestingly, it seems the "Muscle Hamster," always a weight room freak, has joined the crew of leaner Buccaneers. He sure didn't look as squat and bowling-ball like as in the past two years.
Joe's interested to see how Martin looks once the pads start banging on Sunday. He's the top dog, but he's got a lot of guys breathing down his neck.
Last year's team strongman, Akeem Spence, also is a new man. He told Joe he dropped about six percentage points worth of body fat.
There literally is a new look to your Buccaneers, and it's not just the uniform change.