Lovie "Warned" Dashon Goldson
July 4th, 2014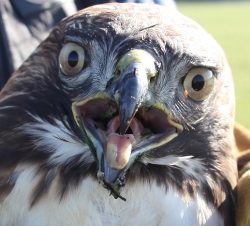 In March, Joe doffed his cap in respect to Dashon "Hawk" Goldson. The Bucs safety made an effort to cut down on his flags and remove himself from NFL warden commissioner Roger Goodell's Most Wanted List by hiring his former youth football coach to re-teach him how to tackle.
Goldson, who was fined six figures and suspended last year for illegal hits, came to grips (finally) that something had to change. Joe respected that, but Lovie Smith apparently didn't.
When asked at the NFL owners meetings in Orlando this spring about Goldson hiring a tackling coach, one could tell by Lovie's taut response he wasn't fond of the move.
In fact, Goldson, who has sheared his dreads and was wearing a biker's-chain wallet for his TV appearance, mentioned this week how Lovie called him up and scolded him for hiring a tackling coach.
"Definitely he has warned me," said Goldson, who appeared on "America's Pregame Show," seen on weeknights on Fox Sports 1.

"[The Bucs] pay me a lot of money to be on the football field and I don't want to hurt my team by not being there. [Lovie] reached out to me when he first took the [Bucs] job and told me, 'There was no need for [you] to hire a tackling coach. We are going to get those hits right.'

"I'm going to be the leading example going into training camp for a lot of organizations on tackling and doing it the right way. My coach has warned me and I am sure he will implement that in our practices."
Also in the interview, which you can enjoy below, Goldson explained why he doesn't regret his hits and that his hardest hit was two years ago when he hammered Serta Perfect Sleeper spokesman, mattress-in-the-front-yard Mike Williams.