Josh McCown Gets Downgraded
July 22nd, 2014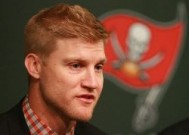 Former NFL quarterback turned BSPN film guru Ron Jaworski has emerged with a fresh ranking of starting NFL quarterbacks.
"Jaws" was not kind to Bucs starter Josh McCown.
The introduction to his new rankings, which sit behind an BSPN paywall, explain that Jaworski was busy in the film room before placing McCown a notch below Sam Bradford and a tick above Johnny Football stand-in Brian Hoyer.
25. Josh McCown, Tampa Bay Buccaneers
Previously: 22

The presumptive starter in Tampa Bay, McCown played really well last season in Chicago after taking over for an injured Cutler. While McCown doesn't do any one thing exceptionally well, he is fundamentally sound and lets the defense dictate where he goes with the ball. He had a QB rating of 108.5 on third down in 2013 and understands what defenses are trying to do. He's great in the pre-snap phase, and with a couple of studs out wide in Vincent Jackson and rookie Mike Evans, he should excel in Tampa Bay.
The explanation from Jaws is exciting, wonderful stuff, but then why such a crappy ranking?
That really illustrates how tough it is for a team when it has the fourth best quarterback in its division. The next closest NFC South starter to McCown is Cam Newton, ranked No. 14.