Joe Talks Worst-Players List & The 2014 Season
July 18th, 2014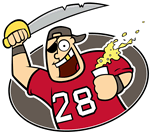 In case you missed it, Joe was peppered yesterday with all kinds of Bucs questions during an appearance on the Ron and Ian show on WDAE-AM 620.
The topic of projecting the 2014 season came up, and Joe dove into the miracles fans and coaches are seeking from starting QB Josh McCown, among many other subjects.
Joe also chatted about The Countdown: Worst 20 Buccaneers Of The Past 10 years. Enjoy the audio below.