Guess Who Can't Wait To Hit People?
July 26th, 2014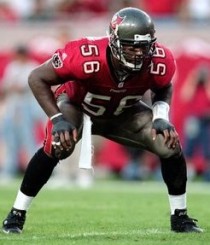 Joe realizes plenty of Bucs fans reading here weren't Tampa Bay faithful during the Tony Dungy era. So Joe knows references to that era don't always stir passions — good and bad — in every member of Joe's studio audience.
But Joe was a fan back then, a season-ticket holder, so what Joe heard in the Bucs' locker room last night really got him jacked up.
Sunday is the day the Bucs will sport their pads for the first time in training camp and starting battling like men for jobs.
Hitting, what makes football what it is, begins.
Lavonte David (whose personality has now opened up now that the strict Schiano regime is gone) chatted enthusiastically about how every day linebackers coach Hardy Nickerson talks about how fired up he is for Sunday. "Day in and day out all day," David said of Nickerson's obsession.
Nickerson, of course, was one of the most violent Buccaneers in history. The man was out for blood, "every blade of grass," was the mentality Derrick Brooks has described.
Check out this excellent video of David, via SportsTalkFlorida.com. David talks about various topics, including Nickerson, what happened during yesterday's delayed practice and much more.