Carl Nicks And The Baseball Bat
July 28th, 2014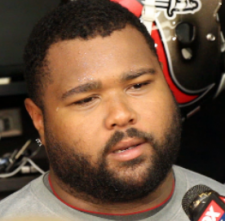 Who else but the bounty-loving Saints would hand out baseball bats in the locker room? That's about as surprising as Josh Freeman oversleeping.
But those baseball bats are a memory of the Carl Nicks that Bucs fans saw little of after he signed a massive free agent contract in 2012.
Remembering the greatness of Nicks is what Joe and Bucs linebacker Jonathan Casillas chatted about last week. Nicks and Casillas are friends and were teammates for three seasons in New Orleans and won a Super Bowl ring together.
Casillas shared how Nicks was a standout for his on-field violence.
"One thing nobody really knows, besides the guys in New Orleans. Every week, after a win, they used to give out a bat for the big hit, like a game-changing type hit. A baseball bat," Casillas said. "Just to signify somebody exerting their will on somebody else. And it would be nearly all defensive guys, myself, [Jonathan] Vilma, [Darren] Sharper, [Roman] Harper. But every week, though, Carl Nicks would a contender for the bat. He was probably the only offensive guy there that would be in the mix.

"But that was him, though, every game he was aggressive, technically sound. He was a mountain of a man but a lot quicker than people thought. But what you rarely get from offensive players, he was violent. Not saying all offensive linemen aren't violent, but people don't play like Carl Nicks did. That's why they signed him here for so much money, and that's why we wanted him back here so badly."
Joe wanted to learn more about this baseball bat.
"It was [current Saints special teams coordinator] Greg McMahon. He gave out that bat, man," Casillas said. "You wanted to get it. It signified you were a bad ass. That's what it was about, you know what I'm saying. That's what Carl Nicks was. Carl Nicks was a bad ass. Defensive guys, we wanted no part of him, and it was like that around the league."
Unfortunately, Bucs fans saw little of the bat-worthy nicks, who was never the same after a major toe-foot injury early in the 2012 season. It was a bad break for evicted regime, but that's football.
As for the baseball bats, well, Joe wonders whether they're still being handed out in New Orleans.