Bucs Insider Talks Carl Nicks & UFOs
July 7th, 2014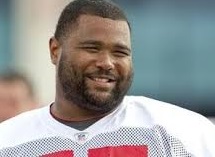 Fact: Last month, Lovie Smith said Carl Nicks passed his physical and is expected to be healthy and ready for training camp, (first practice in 18 days!)
Fact: Carl Nicks said he expects to be ready, too.
Given Tampa Bay's questionable stable of guards, Jamon Meredith, Oneil Cousins, Patrick Omameh and rookies Kadeem Edwards and Kevin Pamphile, one could assume the Bucs are actually banking on Nicks' return to the lineup after MRSA-related foot carving surgery cut short his 2013 season after just two starts. Heck, the Bucs still have a pile of 2014 salary cap room they could have used on a guard yet didn't.
But any sane observer also would conclude the Bucs would be nuts to, in fact, expect Nicks to play football again.
Joe's not sure what to think. Nicks remains on the roster and he just turned 29 years old.
However, Buccaneers in-house reporter and analyst Scott Smith, a team employee with all kinds of access, predicts Nicks returning to form could be the No. 1 surprise of the 2014 preseason.
That said, I'm not going to let skepticism stop me from enjoying this upcoming training camp.  It's clear from Twitter reactions that expressing any optimism in Carl Nicks' future is akin to claiming you've seen an unidentified flying object.  Well, when it comes to Nicks, I choose to believe.  In fact, in the hopes that Nicks has many strong NFL years ahead of him and, in the sci-fi spirit of UFOs, I've thought of a nickname for him: The Death Star.
At last check-in with Nicks during the June mandatory minicamp, he said he was going to try running this summer and would be busy rehabilitating in Tampa. Nicks lives locally full-time.
Perhaps Smith has heard birdies singing happy Nicks songs at One Buc Palace?
Like Smith, Joe can only hope, which is the keyword for most fans this time of year.