"A Lot Of Guys Had Their Own Issues With Coach Schiano"
July 8th, 2014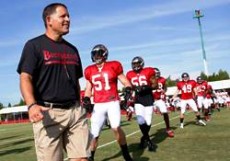 Just how toxic, rancid and dysfunctional was the Buccaneers' house last year?
One prominent Tampa Bay player painted a picture that made Joe want to vomit.
Speaking recently on CBS Sports Radio, safety Dashon Goldson was asked about the rough 2013 season and, specifically, "did guys buy in last year?"
Goldson's reply is likely to sicken those Bucs fans who invested their hard earned money for tickets.
"It's hard to say. I wouldn't say that. I wouldn't say 100 percent. It was just, a lot of guys had their own issues with Coach Schiano," Goldson said. "And it kind of handicapped us a little bit, man. Which is a little personal, things that was going on with players and coaches. I don't think we all was in for the right reason."
As if that wasn't enough, Goldson was asked whether players brought issues with coaches to the field on gameday.
"Some players. I think so," Goldson said. "You know, A lot of guys players look up to coaches. You know what I'm saying, they look at those guys, I don't want to say father figures, but at the same time, role models and stuff like that.

"I think we did a good job of trying to leave the negative things off the football field when we played on Sundays and just go out there and play the games, but it was a little rough."
The good news is hearing stuff likes this gives Joe more confidence that the Bucs will make a dramatic turnaround. It also makes Joe wonder how long it will take Lovie Smith to weed out all the bad apples from the infected Schiano crop.
As Derrick Brooks astutely explained, "If there are some weeds in the roses, they're not going to come up on Day 1."