V-Jax Talks Military Life, "Up-Tempo" Offense
June 13th, 2014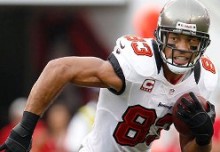 There's that word again: "up-tempo." Add Vincent Jackson to the list of Buccaneers talking about the new pace of the offense.
Keep in mind Dashon Goldson just called this mysterious offense "attack mode" football.
Speaking on WDAE-AM 620 this morning, Jackson talked about how blown away he is by the new regime.
"I couldn't be more impressed with Lovie and the guys that he's brought in," Jackson said. "Jeff Tedford's doing a great job. You know I really love the offense, adding some up-tempo and really putting the stress on the defense."
Jackson, among other things, said he believes the Bucs will be deep at receiver and he's excited by the diversity in the offense.
Perhaps Jackson just finished a cup of coffee, but he sounded more upbeat than Joe's ever heard him before. You can listen to the entire cut below. Jackson also talks about the new book he's co-authored to assist children of military families.