"Up-Tempo" Not Evident In Tedford's History
June 28th, 2014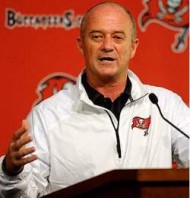 The Bucs' mysterious Jeff Tedford offense aroused stats guru Kyle Wachtel and drove him to perform research and craft spreadsheets for FootballGuys.com.
Wachtel dug up all kinds of data and Joe must commend him. This was some telling stuff.
Many Buccaneers players have referenced the word "up-tempo" to describe Tedford's offense. However, Wachtel's number crunching reveals that fast-paced action is absolutely not in Tedford's DNA.
Unlike many of the fresher offensive coordinators in the NFL who have been a blessing for fantasy football, Tedford has not called for a fast-paced offense. Over the past ten seasons at California, the 67.5 plays-per-game averaged by his offenses have an average rank of just 79th among all college football programs. For context, the three-year average for college teams is 73.4 plays-per-game compared to 64.1 in the NFL. Accounting for that drop-off would place Tedford's projected plays-per-game at approximately 58.9. Tampa Bay has also found themselves under the NFL's average total offensive plays over the past two seasons and with a new, defensive minded Head Coach in Lovie Smith, we can expect the offensive tempo to be near the league average at best.

In regards to the playcalling, Tedford does like to run the football and has done so on 54% of his offensive plays while at California. In the past two seasons, only 11 out of a possible 64 NFL offenses have ran the ball greater than 50% of the time over the course of a season. The average regular season win totals of those teams is 9.2, which provides evidence that a run-based offense can still be successful in this so called "passing league."

As indicated above, Tampa Bay's recent offenses have fallen right in line with the NFL's pass / run split. When considering Tedford's move to the NFL and the organization's use of their top 2014 draft selections for receivers, it can be expected that Tedford relies on the passing game a little more than in his past. Nevertheless, it remains likely that the team will be among the more run-centric offenses in the NFL.
There's plenty more to read via the link above.
What does it all really mean? Joe has no clue, though Joe is confident Tedford yearns to open his playbook and intelligently attack playing effective and creative situational football.
What those situations are, of course, will fall largely on the Bucs defense. Last year, Tampa Bay was a turnover-forcing machine getting the kind of results Lovie Smith craves for 2014, but Mike Glennon, Mike Sullivan and the offense were historically dreadful and couldn't capitalize.
It's painful for Joe to type this, and Joe apologizes for the painful memories it will conjure, but the Bucs averaged 5.2 points scored in the second half of games last season. If that happens again, Joe's all in favor of firing Tedford after one season.