Today's Practice Notes & Observations
June 3rd, 2014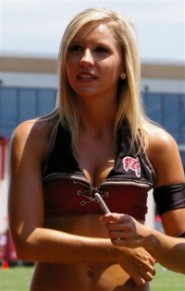 Joe was sweating and buzzing around Bucs practice today and is in a sharing mood, as usual.
Here are plenty of sights, sounds and happenings from One Buc Palace. The Bucs' mandatory, three-day minicamp starts next Tuesday.
*Father Dungy was in the house for the two-hour practice, and he was a very active observer along the sidelines. No, Joe didn't see Dungy coaching anyone up, but he was talking to plenty of players and seemed to be working the practice officials during a red zone drill.
*The first-teamer offensive linemen throughout pass blocking drills were, left to right, Anthony Collins, Patrick Omameh, Evan Dietrich-Smith, Jamon Meredith, Demar Dotson. That appeared to be the first unit throughout the day, as well.
*Solomon Patton, Eric Page and Skye Dawson were the punt-returner crew. Patton's got a lot of zip in his legs. Page is the surer ball catcher.
*Tim Wright was always with the first-team tight ends and he caught an impressive 25-yard TD during a red-zone drill, a fine catch of a McCown pass going out of bounds in the corner of the end zone. It was such a nice catch, Wright's momentum took him well out of bounds and an excited Doug Martin ran in and provided the Raheem-era chest bump.
*A couple of early bad throws by McCown, two in a row behind receivers over the middle.
*Mike Glennon comes in next for his turn, and No. 8 is razor sharp, two very quick strikes to Patton, followed by a completion to Brandon Myers. All quick-release short stuff.
*So who was the most fired up Buccaneer after that Glennon display? McCown was screaming, "Good job, Mike."
*Great leaping catch by Robert Herron from McCown.
*Another bad throw by McCown. Overthrow.
*Nice connection from McCown to Louis Murphy. Quite an athletic player Murphy is.
*Interesting two tight-end set with Luke Stocker and Brandon Myers. McCown pass complete short over middle to Stocker.
*Stocker follows with a drop of a pass in his gut.
*New Bucs cornerback Quinton Pointer had two picks on the day. Joe didn't see who made the first bad throw (and it was a bad throw). Glennon threw the second pick to Pointer in the end zone from about 10 yards out.
*Lots of running plays flashed today, which aren't too exciting considering there is no contact allowed. Plenty of pitches right and left to Doug Martin and friends.
*Great concentration by WR Lavelle Hawkins over the middle catching a pass deflected at the line of scrimmage.
*Charles Sims has plenty of explosion in those legs of his. Runs pretty low for a tall running back. Not Doug Martin low, but low.
*William Gholston got loud praise from coaches on two occasions. Once it came from former Bucs defensive end Steve White, who's a coaching intern for the defensive line. On that play, Gholston absolutely smoked right tackle Emmett Cleary (camp meat). Coaches didn't whistle the play as a sack and let it go on.
*Tremendous leaping catch by Murphy in the back of the end zone from McCown.
*Last guy off the practice field? Mark Barron putting in footwork training and more with an assistant coach.