The Mystery Of Jeff Demps
June 18th, 2014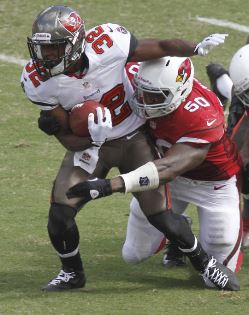 Jeff Demps is a fan favorite, even though the guy hasn't produced a lick wearing an NFL uniform. For this reason alone, Joe is puzzled by Demps' popularity.
Oh, sure. Joe knows Demps is a local guy from Winter Haven, so that has something to do with it. And, yes, Joe knows he starred for the Gators. That might have a whole lot more to do with it.
Joe guesses the main reason for the adoration of Demps is promise. Speed kills and you can't teach speed. Problem for Demps is that despite being a former track star, speed alone doesn't make a football player.
Buccaneers.com multimedia maven Scott Smith dives in to the Demps mystery.
Then there's Jeff Demps. To this point, the Bucs seem to be using him mostly as a running back, and the results are sometimes eye-opening. It is especially important here to remember the non-contact thing, but there are moments in practice when Demps takes an offset handoff, starts in one direction and then suddenly bursts upfield through a gap that look quite promising to this admittedly untrained eye.
Yes, at times, Demps flashes that Olympian speed, and it does get your attention and you understand why Bucs coach Lovie Smith is enamored with Demps. Then you see the hands, and you cringe. He totally dropped the football running up a wide hole… in underwear football with no contact! Then you see the ball clang off his hands on a pass to the right flat. Yikes.
In case Bucs fans haven't noticed lately, there is a crowded backfield with Doug Martin, Mike James, Charles Sims and Bobby Rainey. Demps could be a sparkling addition, but not before he learns how to take care of the ball.