The Mighty Stocker
June 13th, 2014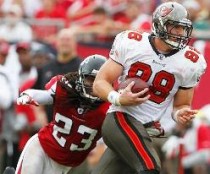 In Joe's Thursday practice notes, Joe gave "Catch of the Day" honors to rarely-healthy tight end Luke Stocker.
And that play seems to have captured the hearts of the Buccaneers.com video staff, too.
Stocker's astute route running and explosion was far too much for safety Major Wright on the play. Stocker used his athleticism to rise for Josh McCown's touchdown pass in the corner of the end zone. It's all on video right here.
There's also other cool stuff in the practice highlight reel, and an ugly pick thrown by Mike Glennon.
Can Stocker actually make the 53-man roster?
Well, Joe wouldn't wager on that. Stocker seems addicted to the trainer's room. Last year, he reported back to training camp with a calf injury suffered by while running sprints in preparation for Greg Schiano's grueling, pre-camp conditioning test.
But Stocker is healthy now. And if Jeff Tedford is committed to using two-tight-end sets frequently, then maybe Stocker has a real shot.