The Magical 2013 Draft?
June 1st, 2014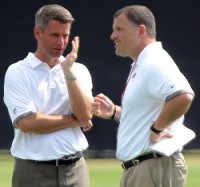 Lovie Smith loves his players — until he doesn't.
But Lovie seems to have special, glowing evaluations for the Bucs' 2013 draft class, the final one of the rockstar general manager Mark Dominik era.
Evidence is everywhere.
Last week, Lovie raved to reporters about how cornerback Johnthan Banks played well last year (remember, Banks was a MRSA victim) and is the among the new breed of necessary, long corners in today's NFL (Darrelle Revis explained it best).
Mike Glennon? Well, he's Lovie's "quarterback of the future." Lovie's dueling Greg Schiano for leadership status of the Mike Glennon Mob.
Akeem Spence? He's been replaced in the starting lineup, but the Bucs appear comfortable with Spence serving as a busy, rotational backup nose tackle. His off-field shenanigans this year didn't seem to ruffle Lovie or Jason Licht at all. Licht even said in March that Spence will compete with Clinton McDonald for a starting job.
Defensive end William Gholston? He's a likely starter, who has received Lovie's praise.
DE Steven Means recently got the "prototype" label from Lovie.
Running back Mike James got all kinds of Lovie love before Charles Sims was drafted. The head coach raved about having a back like James with 100-yard games under his belt.
And that leaves young speedster Jeff Demps, who was acquired via a draft-day trade last year from New England. Lovie shared his obsession with Demps at the NFL owners meetings months ago. It hasn't subsided. Lovie said recently he's ignoring some errors by Demps because he sees a tremendous upside daily.
Man, considering all that, Joe wonders whether Lovie will invite Dominik to his house for a Labor Day barbecue.
Of course, June 1 chatter about players is a lot different from regular-season reality. It's difficult to predict what Lovie will do — or how players will perform.
Starting with Banks, he's going to pushed hard by Mike Jenkins. Remember, Lovie said he doesn't typically chase free agents who aren't targeting and expecting a starting job.